As we learned from the article on Spanglish billboard advertising, there are many things to consider when placing a bilingual ad.
We are interested in finding what lessons can be learned in Spanglish and Spanish advertising from billboard ads displayed in Phoenix, Arizona. We focused this time on an area very representative of the Phoenix market, which is 7th Street in the heart of central Phoenix. For this research we analyzed the area north of Baseline Road in the south up to Bethany Road in the north.
A Traditional Spanish Ad from 1st Bank
The first advertisement reviewed is from 1st Bank out of Denver, CO. This is one where we needed to sit down and evaluate the ad as a team as we did not get it from a glance.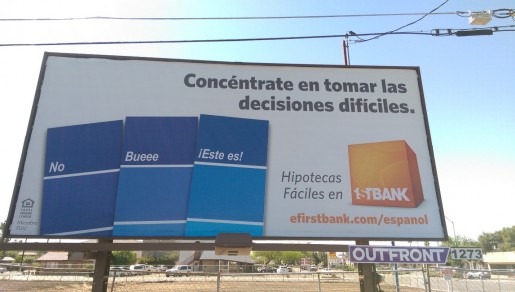 Upon further review we realized that there were three paint card options in which the imagined user has discarded the first two paint cards and opted for the third. The first sample says 'No' simply, which is clear in either English or Spanish. The second sample says 'Bueee' which is referring to an uncertain state of mind like "hmm, maybe…" The third sample says 'Este es!' …
Continue Reading